Shopping Cart
Your Cart is Empty
There was an error with PayPal
Click here to try again
Thank you for your business!
You should be receiving an order confirmation from Paypal shortly.
Exit Shopping Cart
There comes a time when we have to say "Goodbye". All the love, medications, massages, therapies, no longer do any good. I would like to think it is a time to celebrate all the wonderful years, but somehow my eyes swell up and my heart grows heavy. So here are some pictures to celebrate some wonderful years. 
By far the most iconic picture we have, is when Dave took Kassey out pheasant hunting in 2006. The location was prime and looked like a movie set.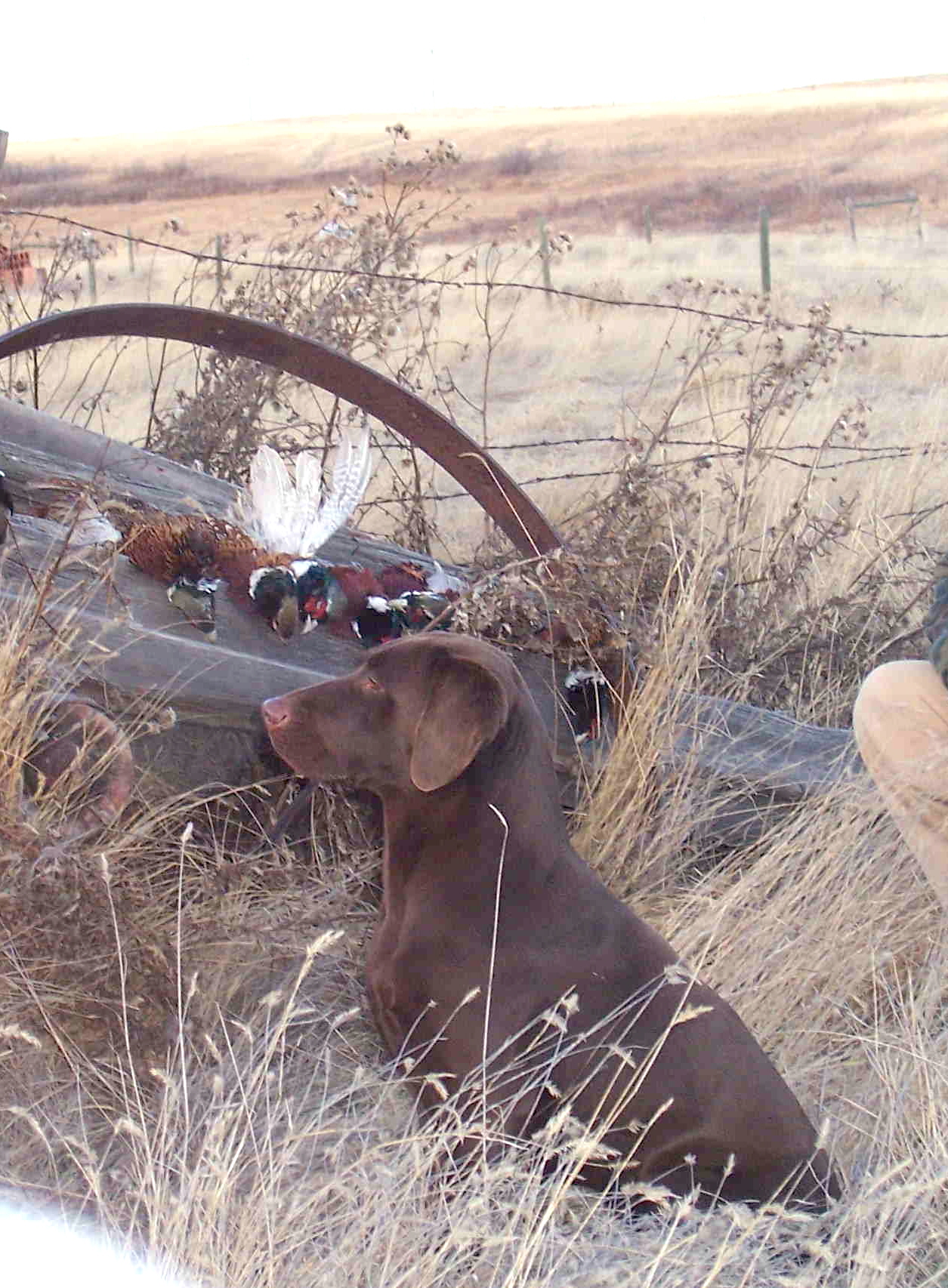 Kassey in 2012, still beautiful, but starting to slow down.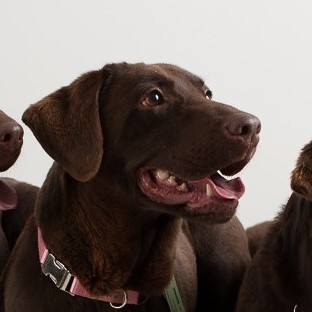 Kassey in 2007, so beautiful and full of energy.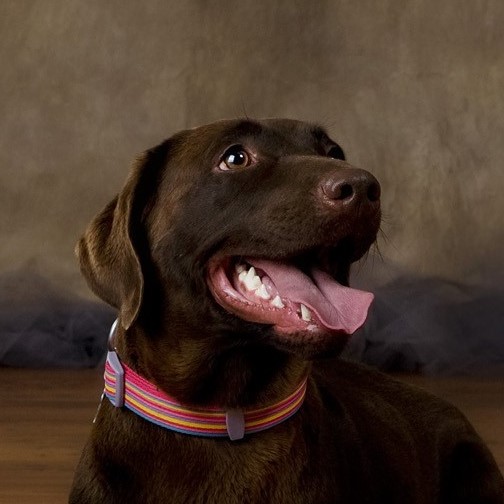 Puppy Number 8. We were tired Koko and I, and here was the sixth girl in a litter of 10. But at six weeks we knew Kassey was the most beautiful girl in the litter.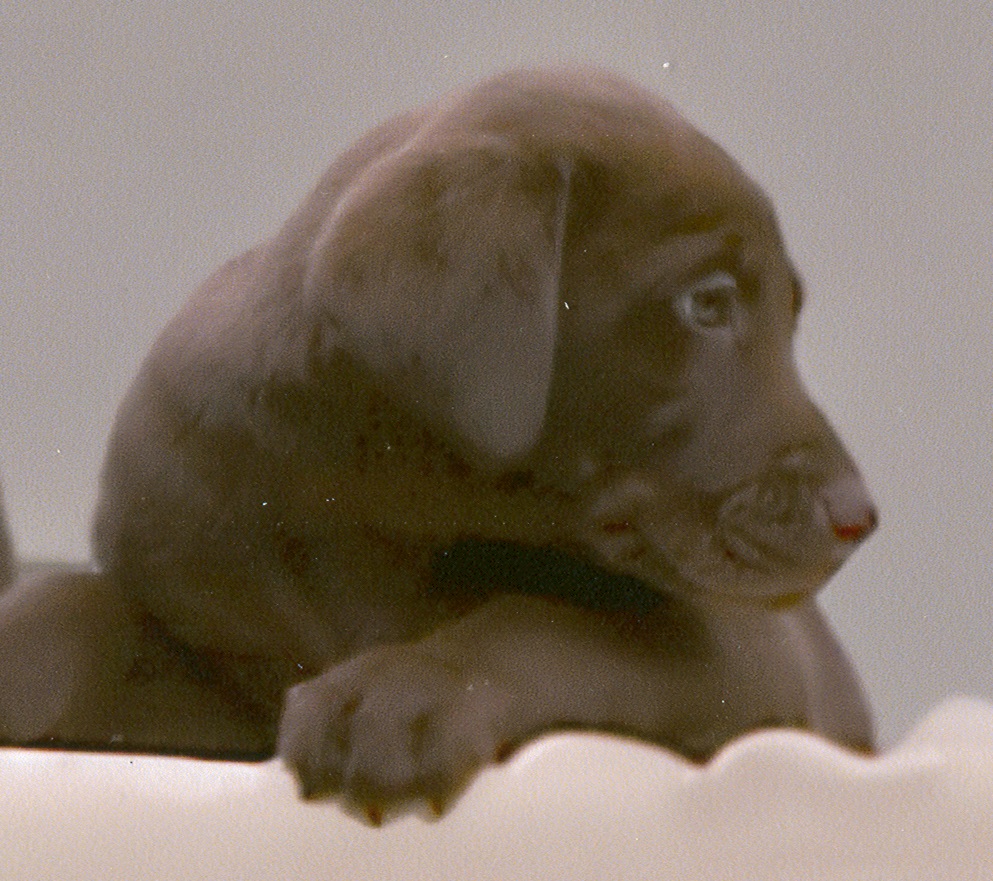 In June, Kassey turned 15. 
It took us a lot to keep her going, as peeing and pooing in the house seems to be the norm.  Not too many people would put up with it, but we seem to be an exception.  She is doing great otherwise, except a little hard of hearing and cannot see too well. And she is on soft food now, and gets lot of different supplements and pills.  But what 90+ year old human doesn't do the same? She can still walk a mile with us, slowly, and sometimes she looses track of us and we have to go back and rescue her. But she is still eager to go.  She loves when we do ball toss at the lake, but seems to know that all she can do is splash at the edge now. If she started swimming I am not sure where she would end up...and probably take Hope with her wondering where they were off to.
Kassey got a bow to wear on her birthday.  Looking very lovely in it.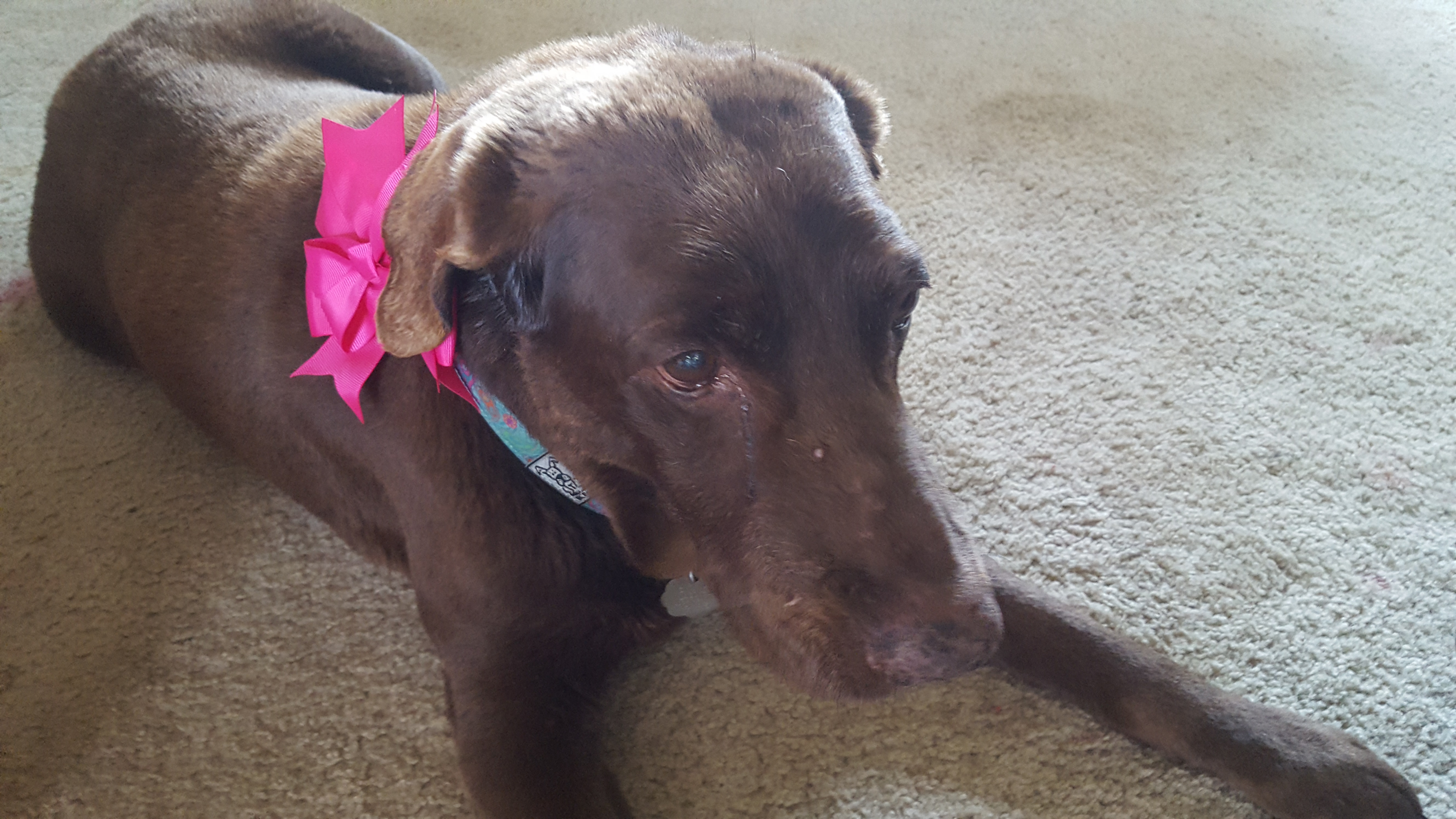 A litter of puppies is always years of planning, nine weeks of waiting, and eight weeks of intensity with whelping, growing pups, and finding forever homes. Then there is the aftermath. All of a sudden there is quiet.
Except for 2018. This year we had HOPE!
Hope was one of the littler, quieter pups from our 2017 litter.  It was one of the reasons we chose her. Were we wrong. To start with we baby-gated her in the kitchen. That way we got to sleep through the night for a couple of weeks....until the cats knocked Kassey's Gabapentin off the shelf and there was that emergency trip to the Animal Hospital. So after Christmas, Hope got banned from the kitchen, and began to sleep with her Grandma.  All fine except she woke us up two or three times a night to go outside.  So after Christmas we got out a kennel and tried to crate train her at night.  Afterall that was what we recommended to all our puppy families. Hah! Now Hope started developing her lungs and barked all night....so the solution was to move her out to the garage in her crate for the night. That worked for us, as we could no longer hear her barking.
As a reward for a good job, Maggie got started on scent training in 2018. We got through the first scent, wintergreen, and got Maggie's certificate from the Sporting Detection Dogs Association. Love that scent as it reminds me of livesavers. Anyway it was a lot of fun, and Maggie was great at it. Also enjoyed participating as a volunteer at some trials. Maggie and I were just not quite ready for them.  We continued training over the summer, but this fall, I just never got organized enough to get us back into it. Maybe after Christmas.
Hope passed her level One for training at Waggles Academy for Dogs. We were not able to continue training there as they no longer let non-spayed or non-neutered canines over the age of six months attend :(. Love Waggles but that meant Hope got sent to boarding school over the summer. Kelsey Boettcher at Alberta K9 accepted the challenge of trying to make Hope into a bird dog.  After three months, Hope got sent home with the proviso, that perhaps next year, she will have matured enough to be steady enough to continue training. So Hope does at least retrieve her rubber duck and is quite good at finding it. Alas the snow came early and that curtailed duck training. So we are back to household obedience.  Somehow have come full circle, as this week Hope was back at the vet receiving charcoal for getting her Grandma's Gabapentin off the shelf and chewing up the bottle. (Hope has learned how to get out of her kennel....we don't know how....but she is back to being crated in the garage in the old metal kennel when no-one is around especially because of her second breakout. Keep on reading.)
We had some scares this past week. Grace has two large lumps in her chest, that we were afraid might be something scary. But Dr. Cindy did her magic needle aspirations, and they are both fatty lumps. Grace also got attacked a week ago by another dog. She got some bites on her muzzle, but did not need stiches. They are still healing up. But just goes to show you, that even the nicest dog can be the victim of an attack. The other scare was with Hope. Two days after the Gabapentin incident, Hope decided to get into my vitamin D. Until that moment, I had no idea that vitamin D could be toxic to dogs. So Dr. Cindy was a little more concerned about this ingestion, and blood and urine work was also done. But because we got Hope in quickly for the usual (induced vomitting and charcoal), there should be no long-term effects.  Except that the counter has now been cleared off, except for the dog bisquits:D.
Next year, we hope to go back to having a litter. Will be a lot less stressful. Ha Ha Ha.

No breeding guarantees puppies. Once again we were disappointed that AI did not take with Maggie. We tried twice with AI, once in the summer of 2016 and then in January of 2017. While we waited until her expected due date, with a little anticipation, we did not expect puppies as her ultrasound showed nothing, and Maggie never acted like she was pregnant. No getting big, no nipple enlargement, no hair loss, and no mellowing. 
 We were sad to announce that there was no litter in 2016 and again in 2017.  It is time to go back to a natural breeding.  Hope we can get down to Illinois sometime this summer.

| | |
| --- | --- |
| Posted by Pat on June 22, 2016 at 8:20 PM | |
Well, Maggie's much awaited 2016 cycle has begun. Due to circumstances in Illinois (a litter of pups expected this weekend), We are going to have Maggie bred by Aritificial Insemination (AI).
BIll and Marcia Butikus kindly arranged for a semen collection from Bustin' on Tuesday, and it is on its way to Cedarwood Veterinary Hospital as I type this.
Maggie's first progesteron test was done on Tuesday and it was still baseline (0.8 ng/ml). A second progesterone test will be done on Friday, and then we will see what the results are.  If it has gone up, Ronnel and Dr. Hubbard will decide when to perform the transcervial AI.
Exciting times ahead!
Without puppies or major health issues, life can be pretty dull and boring with the clan.  We did start the year with a major concern around Kassey and her nose, but it has turned out to be nothing as a year later she is still okay.  Kassey has now entered the era of OLD GIRL.  Seems like only yesterday she was our puppy.  Now she is her mom, and we are giving her glucosamine and a daily dose of anti-inflamatory to help her joint mobility.  She still loves to go on walks. But with old age she is starting to have difficulty jumping into the car to go on walks, her eyes are starting to cloud over, and she is starting to bark at ghosts. In the fall, Kassey was an active participant in a first aid course for dogs, from "Walks 'N' Wags" Pet First Aid". We learnt that nylon stockings and baby socks can be important first aide tools to keep bandages in place and tails from wagging when hurt.
We were hoping to breed Maggie last fall, but she was so late in the season by the time she was in season, that we missed that opportunity. So we took the Adult Refresher Obedience course from Waggles Academy for Dogs. She did very good in most tasks, but it took three tries for her to do the three minute down without breaking (more than once).  But Shar was patient with us and we did finally do it.  This is great news, as now we can sign up for other types of classes such as massage and scent.  Nothing to much, as I am not able to be too active other than walking.
As for pups, well we will just try again this spring, God willing. 
Life has been great. No serious health issues or injuries. Kassey's nasal problem from the winter seems to have subsided. Maggie's itchy coat seems to be settling with steroids and a food change. Grace continues to eat anything that she can reach.
A picture of Browning, a pup from the 2014 litter of Maggie and Bustin'.  He is quite the lad.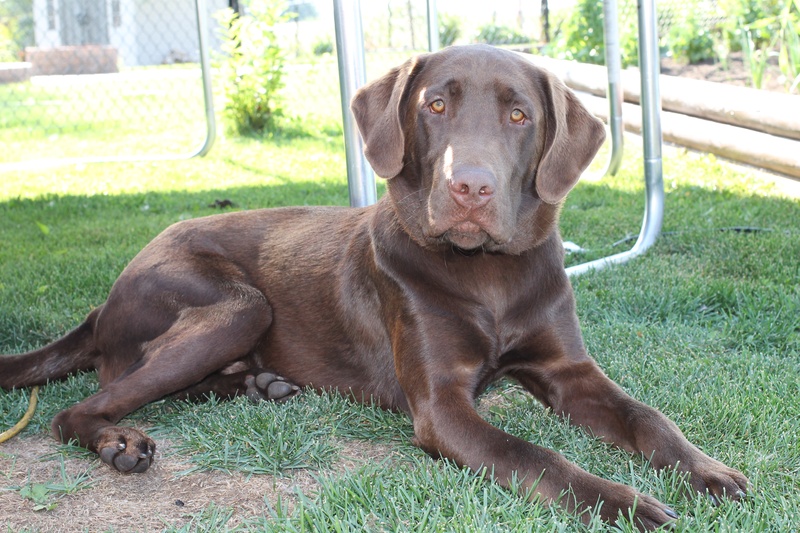 Wow, thank you to all those who have been sending us pictures. The pups look like they are doing great.Amazing to think that our Maggie produced such a great bunch of pups.  Way to go Girl!
I know that I sent the 2014 puppy families home with six weeks of free pet insurance. I am a bit ambivalent about insurance, as I know that these companies are making money off of me. If I could put my money away rather than give it to them, I should be making the money.  But like most of us, putting aside $50 or so a month for possible future vet bills never gets done. And over the past few months, I have been very grateful that we have had a bit of insurance with PetSecure, to cover some unexpected incidents.
First there was the hole in the side incidents:  Both Maggie and Grace over a period of a week managed to tear holes in their sides.  I posted some pictures of Maggie's hole.  The vet suggested we just let it heal up as it was far enough down her side, and did not penetrate into her body cavity.  It took awhile, but it healed up so nicely there is not even a scar. However, Grace's cut was into some of her shoulder muscles, so we actually had that one sown up. It costs a lot to have emergency surgery even for a minor injury like a tear.  With Secure level 2 and a $300 deductible we were able to get some of the costs covered for these incidents (mainly because we had already covered the deductible for Maggie with all the unexpected costs of a C-section and mastitis with her 2014 litter.) 
We are really hoping that our next misadventure will be covered as well. Kassey has been having a nasal problem (wheezing and snorting) and running eyes since last August. Originally we thought it was associated with an eye injury at the end of July (ran into a stick we think). When we took her for her annual physical in September, the vet did not think it was anything to worry about. And Kassey was not too bad over the October-December period. But IN January it seemed to worsen, so off to the vet we went.  And she thought we should get a specialist to see it, so off to the CARE Centre in Calgary we went. The suspect of course was that she had something lodged in her nasal passage, that could have been anything from a seed to a cancer tumour.  So a couple of thousand dollars later for a CT scan and oncology consult, we are happy to report that there does not seem to be a TUMOUR or any foreign body.  Of course we are no closer to knowing just what the problem is, but sometimes when you rule out the BIG issues, the little ones don't seem too important.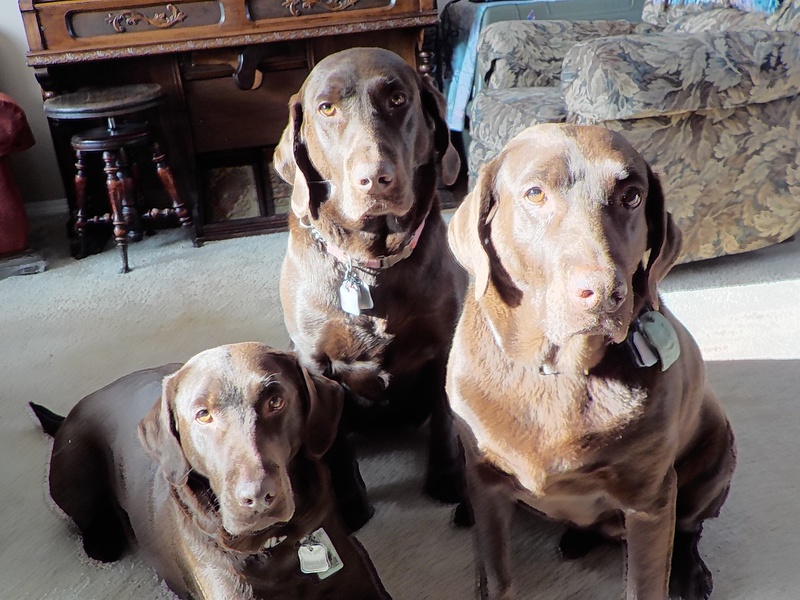 Never in my wildest dreams did I expect to be in three different states during the month of July doing three completely different things. It started out in Minnesota attending the North American Barley Researchers Workshop, a wonderful time to drink beer and connect with old colleagues and new ones too. Then it was off to Califonia to support Sarah as she participated in "Dance the Magic", a parade through Disneyland and California Adventure Land. But then the much anticipated heat cycle happened and I was off with Maggie to Illinois!  We had a grand adventure travelling to O'Hare International Airport on WestJet, the closest direct flight I could find to Indianola.  WestJet treated us great, although Maggie was less than enamoured with being separated from me to go into oversized luggage. But she arrived safely in Illinois and back in Calgary.  I was so fortunate to have help along the way with her crate, my luggage, and her.
Our stay with Bill and Marcia Butikas of Blindfaith Retrievers was wonderful.  These people invited us into their home and made us feel both welcome and at home.  They have a wonderful set-up for their dogs. No pretense inside their home, just welcome.  It was a busy place with AD and Bill just having returned from a breeding in Texas. Bill and the boys, Tru and Ten having done a hunt test over the weekend and practicing for another one the next weekend. Several breedings taking place over the week with visitors. And Marcia was keeping it all under control. Wow, it was busy! But their 45 acres in the centre of the corn belt was a treed oasis. Maggie and Bustin did a natural breeding outside under the stars and lit by fireflys. If you were human you could not have asked for a more romantic setting.  
Despite all the travel and wonderful events of July 2014, the month was marked by the saddness of having to say goodbye to Koko. Her life spanned fifteen years, two months, and 21 days.  It was a good long life. She was so intelligent and beautiful.  But injuries and arthritis were taking out her back legs so we had to assist her down and up the stairs. Despite Metacam and Tramadol for pain, she would just stand panting, not wanting to lie down because it hurt so much. It seemed a gust of wind would knock her over and she did not know whether it was worth the effort to get up or just semi-sit where she was. She still loved to eat and go on walks. At the end time, the walks were so short, it took her a long time to get through her bowl of food that she often left, and her tail never went up in joy any more. Knowing we were helping relieve her of pain, did little to relieve our pain in making the decision to let her go. My hope is that she is now enjoying chasing squirrels in the heaven that GOD has made for dogs. Our lives were blessed by having Koko share her years with us.
We never set out to have a 15 year old dog. We had heard that large dogs die young but that labs could live to 12.  When Koko had cancer at 5, we thought, well let's do what we can to keep her alive for a few more years. They removed as much of the cancer and surrounding tissue as was possible without going into her heart and lungs.  Then we had her x-rayed a few months later to see if enough had been removed to keep it from going to her liver, spleen, etc. She was good to go until about ten when some other lumps appeared.  She was starting to slow down but still going strong, so she underwent another surgery to remove the lumps. One was cancer.
When Koko was 12, we were happy to have kept her alive to the average age of a lab.  But by now she was constantly undergoing some type of crisis. She had pancreatitis, so she was sick, lost weight and we had to put her on a fancy diet. She had old dog disease, was sick, lost weight, and we had to feed her Gravol and pureed food. She had another cancerous lump. She pulled her ACL.  Each time a major issue arose, we were prepared to put her down.  Sure we were crying, but it looked like this was the END.  
We were wrong. The vets told us that she could live through these events if we did A,B,and C.  So we did. But the old girl has forgotten how to let us know she needs to go outside. She paces and she pants. We give her pain killers, and supplements to counteract the negative effects of pain killers. The carpet has been peed on so many times we almost don't care if it gets peed on again. We confine Koko to the kitchen with baby gates. We assist her up and down the outside stairs. We look at her and ask "Are you ready yet?" But she never responds, just gets sadder and sadder to watch.
So where is that point that you know it is time? We have lived through many points that we thought were the TIME. We asked others and they have told us many things. Mostly just that you will know. We don't know anymore. This once proud dog looks so sad, but she does not tell us it is time. We just hope that the sun will finally dry out the backyard, the temperature will warm up, the grass will grow, and we will be able to let her spend her days outside.  And perhaps one sunny day, it will be the time.
/