Shopping Cart
Your Cart is Empty
There was an error with PayPal
Click here to try again
Thank you for your business!
You should be receiving an order confirmation from Paypal shortly.
Exit Shopping Cart
Wow, the pups have all been gone for two weeks already.  Hard to believe that all the planning and waiting and having them is over for this round.  It is the first time we have not had a little one left behind. With three dogs underfoot, it is good not to have the little one around, but it is also sad.  We so enjoyed them. From the first minutes at home when we were unsure of how Maggie was going to react. To those last minutes with Green in the house, running around, investigating, and discovering new things. 
We had our own adventures since the little ones left. The -30 weather was a little too much for Maggie's dangling teats and she got frost bite on them. So just as she was recovering from the mastitis, she got sore nipples from frost. And to add injury to insult, she ran into something on our walks and tore a hole open in her side.  Now we have been walking the same walk for almost 10 years and have had a few barb wire snags and tears, but this was a 3 cm tear down her right side. Dr. Peter decided to just let it heal on its own and gave us another week of anti-biotics for her. So after a week it is still open and we are still flushing it with saline solution, but it is on the mend.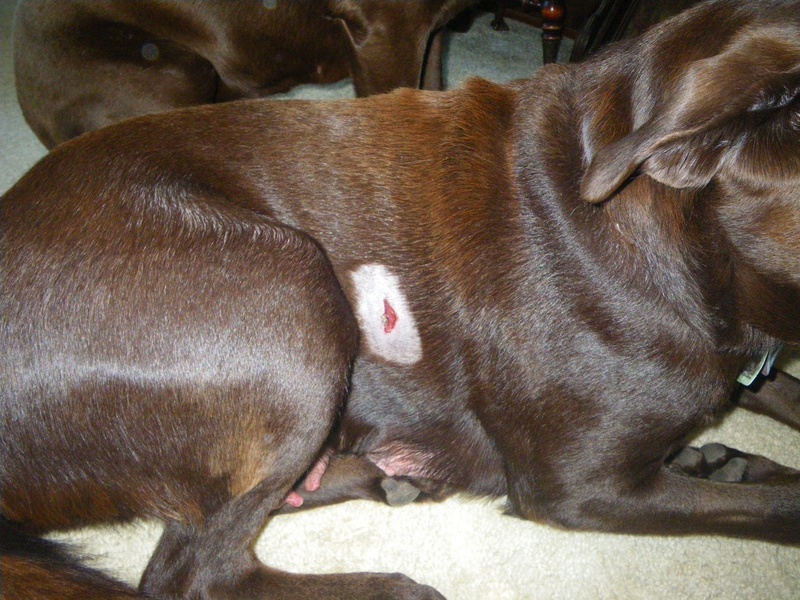 Not to be left out of all the excitement, Grace decided to do the same thing last Monday.  Except that her tear was 7 cm long on her left shoulder.   That meant a rush trip to the Emergency Vet in Red Deer and surgery to repair the damage. She is doing well.  We think they were going into a culvert after rabbits. Unfortunately the culvert has some damage due to lawn mowers so there are a lot of jagged edges on the inside. So we are not going on that walk again. Grace has to be leash walked until the stiches are out next week anyway.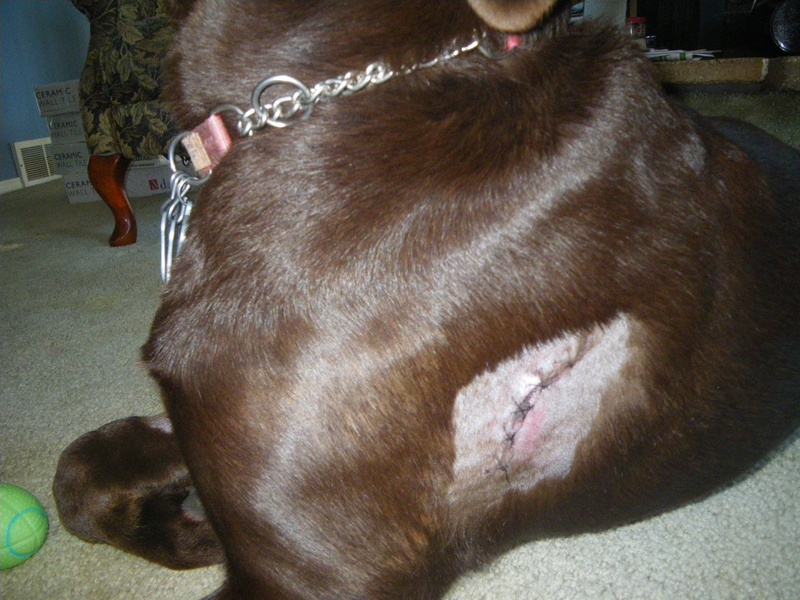 So, while we miss the little ones, the big ones have been keeping our lives busy.  Perhaps too much so!
So starting last Saturday we had a flurry of activity as we said farewell to Silver now known as Ruger, Yellow now known as Browning, Blue now known as Stanley and Orange now known as Gunnar.  And then on Sunday our fifth puppy, Red now known as Tig went off with his forever family. For all our new families, I am sure they have forgotten already our colour names, but in our hearts they always stay as the little guys who stole a piece of our heart and at the same time made them bigger.
Sarah and I took the opportunity of having only three pups, to make a road trip to PetSmart for a little socialization and show-off.  It was a blast.  The pups had fun. Met lots of new people and dogs and got to smell a whole new world.  They were exhausted on the drive home and all evening.  I think it kind of helped them adjust to the almost empty kennel.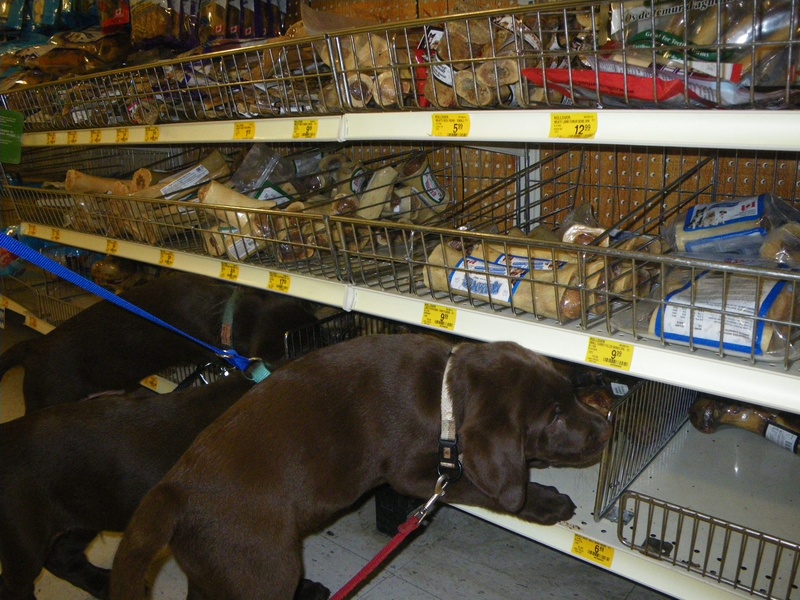 The hardest thing of the past week has been Maggie becoming severely ill with Mastitis. Hard to believe as she had almost got those pups totally weaned.  I didn't even think she was feeding anymore, although I knew there was still some milk production, especially in those big hind teats.  And of course it was in one of those teats that the infection set in.  High fever, vomiting, and an emergency trip to the vet on Monday for intervenous antibiotic treatment.  They sent her home with us so that we could continue to apply warm compresses to the affected teat throughout the evening.  And in the morning all seemed well, so much so, that when we took her back to the vets for continued treatment they felt we could just do an oral anti-biotic at home.  Unfortunately she took a turn for the worse on Tuesday evening and it was almost another trip into emergency.  However, Dr. Cindy guided through treatment options at home and I was able to get Maggie's temperature out of the danger zone.  By Wednesday morning it had remained relatively low and by evening she was back to her old self.  This morning the red is almost gone from that teat and she is once again telling those puppies they can play with her but no stealing.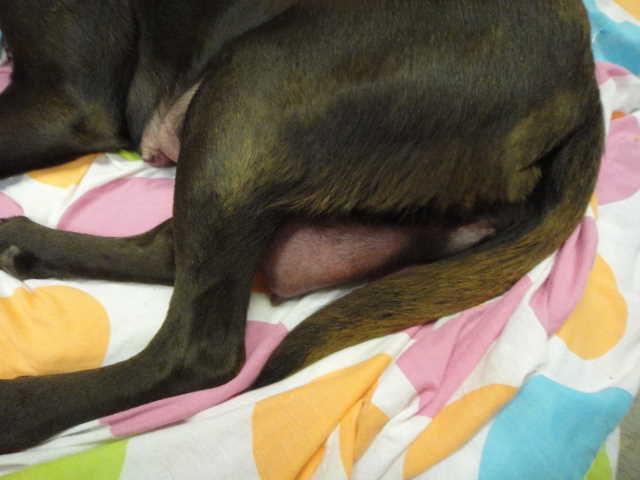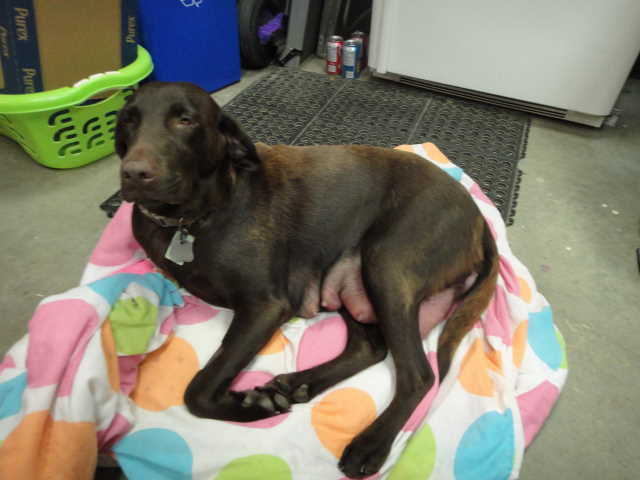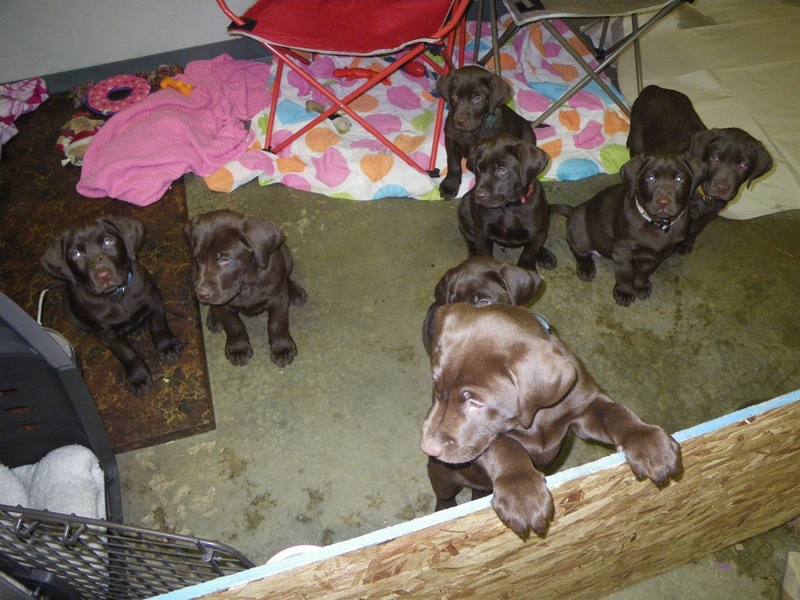 Hard to believe that eight weeks ago we were taking Maggie to the vet because her contractions had produced no puppies.  Hard to believe that there were eight puppies and seven of them were boys!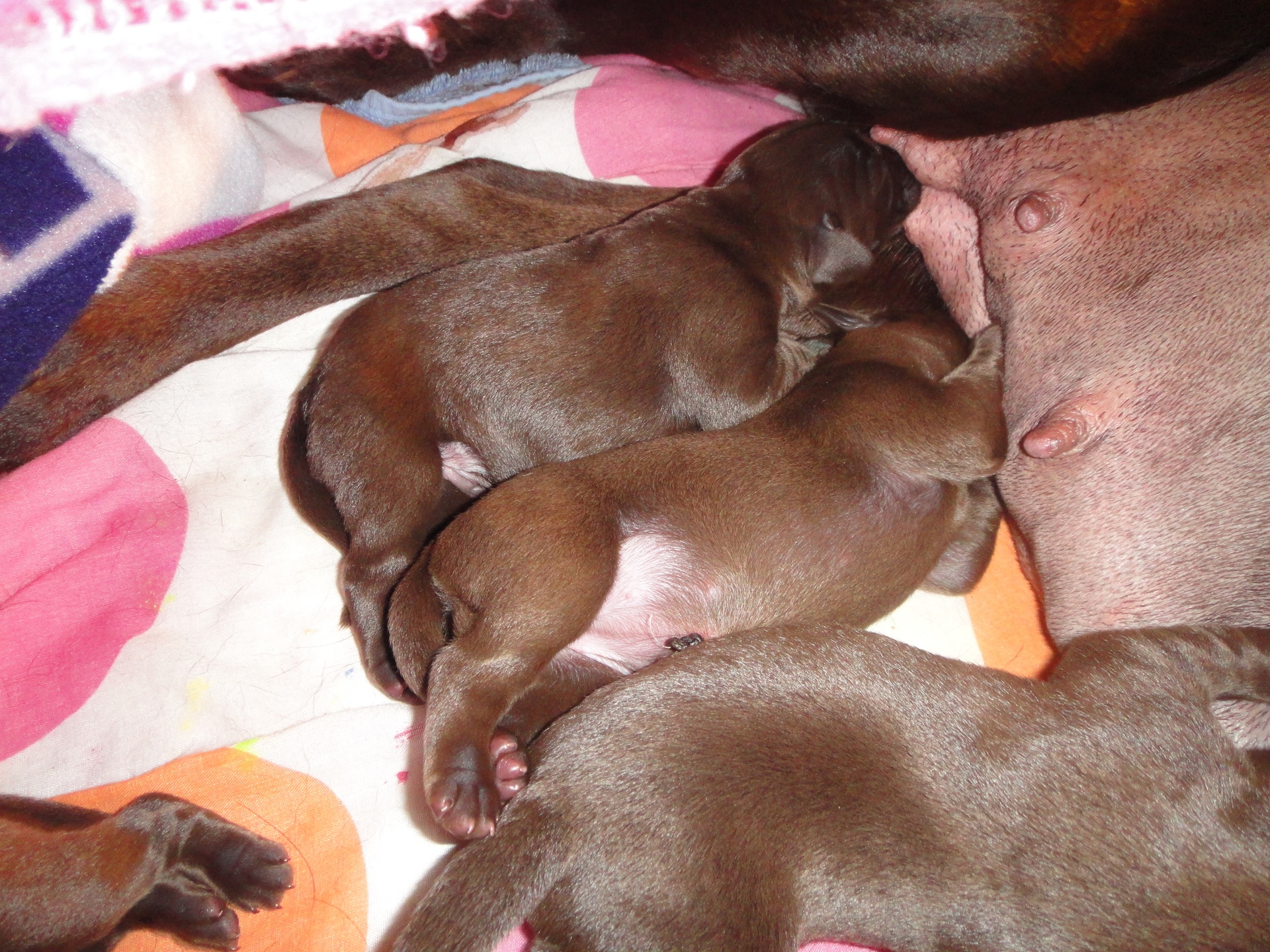 How lucky we have been to find forever families for all them. And we hope families that are suited to the unique personalities of each and every puppy. Our family is not quite ready to let them go, so we are grateful that some of our forever families are not coming until next weekend.  And we have had some visitors over the past week just to keep them socialized.
How lucky we have been to have had such great weather to introduce the puppies to outside.  And even with the cold they seem to have taken to it like ducks to water.  Perhaps not as long of periods outside, but they are willing to give it a try.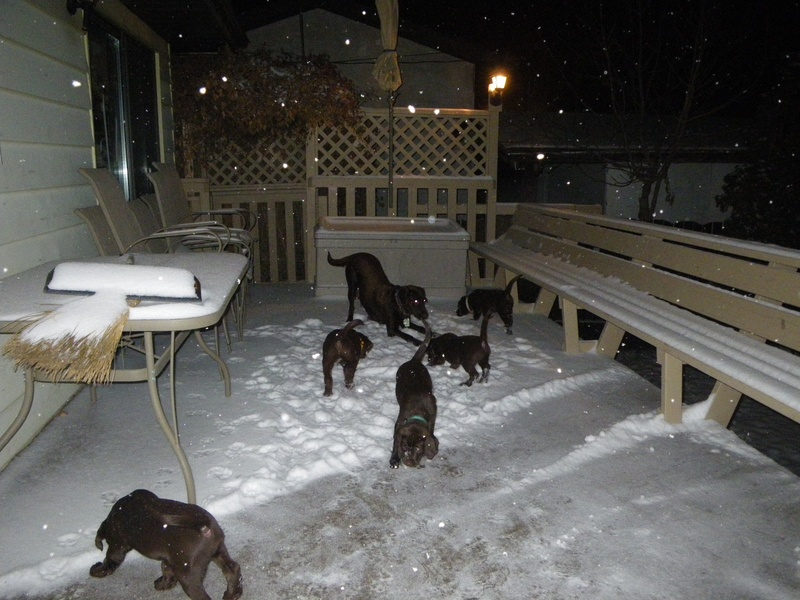 Maggie started the weaning process this past week.  So the puppies always seem hungry now.  We were feeding 2 c a day to each puppy with lots left over for Mom to clean up.  Now the 2.5 c a day gets cleaned up in no time. While we have tried the individual feeding bowls, the puppies seem to like to rotate from bowl to bowl.  And some like to spill the bowls and eat off the floor.  Just an idea that spill proof bowls might come in handy for the first while.
Our boys and gal had an exciting week. People continue to come and visit and select those last three boys.  People continue to come and visit their selections as well.  So GREAT to have the interaction. We seem to have recovered from the bout of diarhrea.  I kept Maggie on them for an extra week, so now we have to start the weaning process.  It should be a bit easier, as the other big event that took place this past week was moving from the basement den,
to the garage. It's a space where even the adult dogs have space, and gives the little guys both a new sleeping area and a much larger poo, pee, and play area. As well the access to the outside is better and we can get them out a few times a day. It does not mean they will be potty trained, but it is a beginning. More pictures of the puppies under Day 42,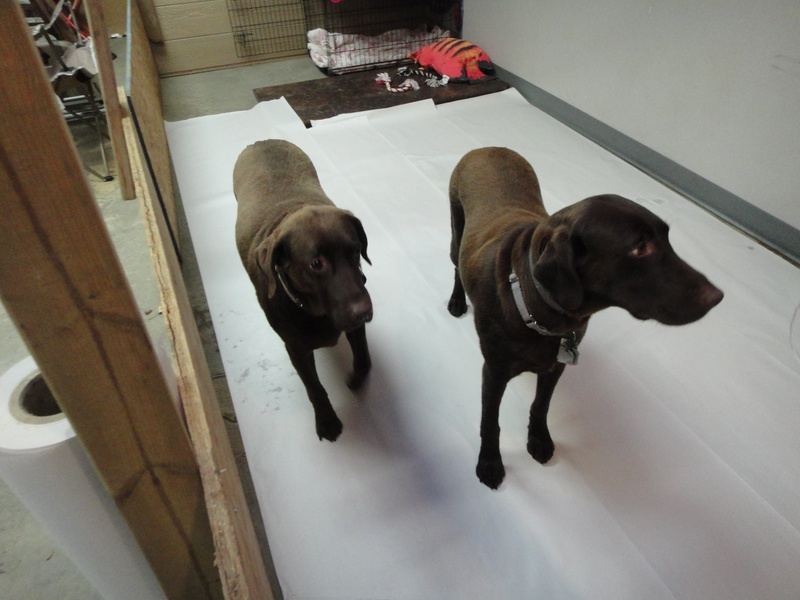 So the biggest thing we did this past week with the puppies was to take them outside. We had one day that was warm, so it made the introduction a little less stressful, but if you watch the videos from Day 32 you can hear a lot of crying. By Day 35 though, the puppies were becoming much more adventurous. We introduced them to the rake. I was able to find some leaves to rake into a pile. The action of raking was fun as I did rake a few puppies along the way.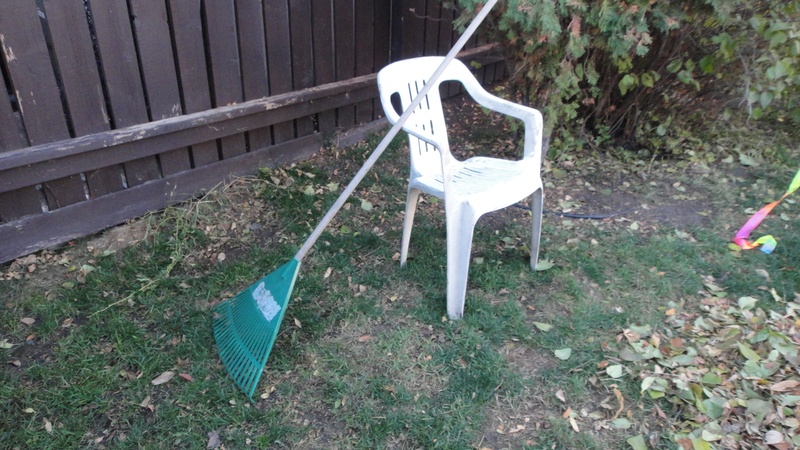 And then I found a ribbon to tie to the bush so there was something fluttering.   Aunty Grace brought out her toys so there were new things to explore as well as Mom's den under the stairs.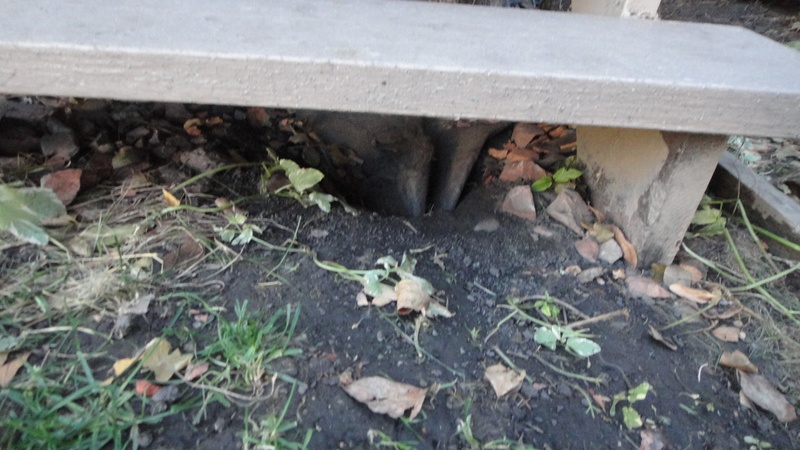 Thank you to all our puppy families who have come and met the puppies.  It is great to get them exposed to other people.  Sorry for being so cautious but there is this very virulent strain of Parvo going around that puppies are very susceptible to. Some breeders only let people view their puppies by video.  That just does not seem to be working for us, and it is good to get the puppies adjusted to more than our family.  
On the weekend we finally put collars on the puppies for the daytime.  Not only does this get them adjusted to having a collar, it also makes it easier to ID each puppy in pictures. (I am sorry that our video format for our camera does not want to be uploaded to the website.  I have a help request in to try and figure out what is wrong.) We have put purple girl into a nice biege/pink/ginger collar since her name is to be Ginger. We have not found a silver collar so he is in black for now.  Orange is in a Harley Davidson collar so we now refer to him as Harley.  It is so appropriate because he is our BIG guy. And we have not found a yellow collar yet, so yellow is in a orangey yellow shade.  We are looking for new collars for yellow and silver. So if it changes, it means we found them!
Yesterday was 20C outside, so we took the puppies outside for their first exposure to grass and concrete and trying to figure out who was Mom and who those other dogs were.  There was a lot of crying going on but all in all they all finally calmed down and went to sleep around my chair.
PIctures to be posted shortly (collars on Day31 and outside on Day 32).
Wow, has time flown since these guys and gal were born. Eyes are open and focussing. Ears are open and hearing. Legs are growing and walking. They can pee and poo on there own and everywhere! And they have teeth! Oh and they can scratch themselves now!
So for those who have not been around puppies much or have forgotten. Puppy teeth are very sharp.  And because they are still getting their molars, they are chewing everything.  I noticed last night that we had a cord hanging down for the light, so that quickly got moved out of mouth range. And one of the little fellows got a big bite on his neck that we were somewhat concerned about, but the vet said it was healing nicely and there was no infection, so not to worry.
Once again we are rearranging the nursery to accomodate a few visitors who don't mind getting their pant legs pulled, or perhaps stepping on something wet. But mostly it is just to increase the paper area to accomodate the new found skill of bathroom etiquite.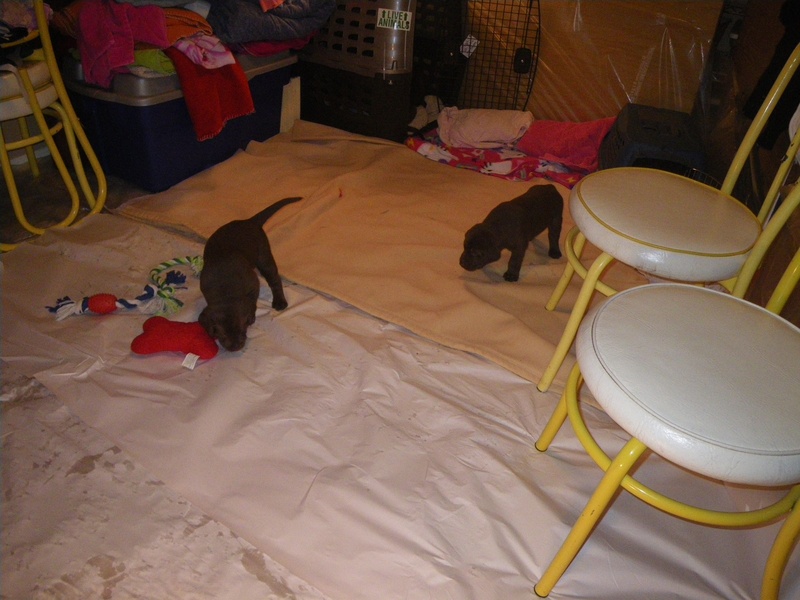 We can hardly believe that three weeks has passed already.  Except these puppies have outgrown their pool. We have put down some thick plastic and moved them into a larger area in the family room. They seem to really like the space. They can now sleep on bedding, in a crate, or on paper if they want to.  Some of them seem to get that peeing and pooing on the bedding is not acceptable, and they are actually walking over to the paper section to do their business. How smart is that! While most are more interested in Mom still than puppy food, they are at least all trying it out.  That reduces the demands on Mom who is getting pretty skinny already, even though she is being fed every two to three hours.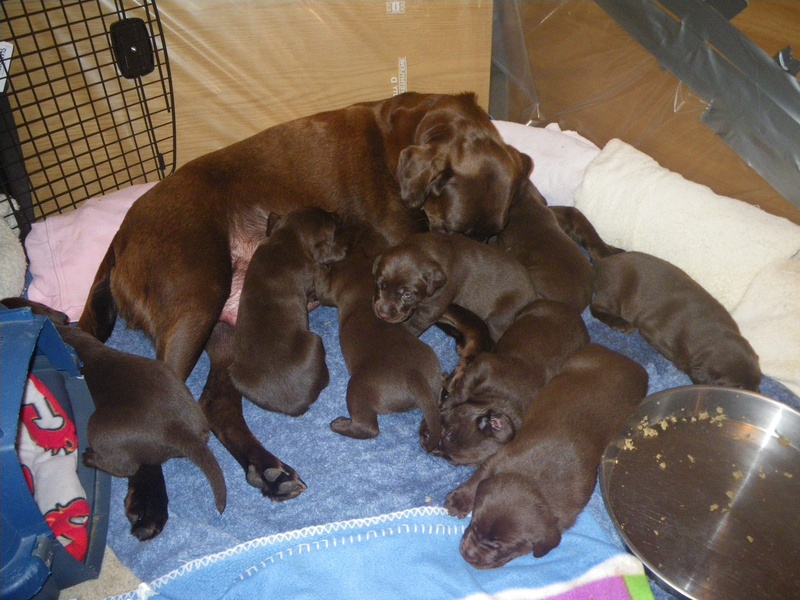 So for all our puppy families, please make arrangements to come and see them sometime starting October 18. They are so cute you are going to want to take them all home with you! We are asking that you take off shoes, wash hands, and be prepared to be peed on. If you are exposed to unvacinated dogs, we ask that you not touch these puppies as diseases such as parvo can devaste a young litter.
Wow, these first two weeks have flown by. We were a little stressed by the puppies arrival in the world. This was the first time for our family that we had to make a decision to have a litter by c-section. The irony is that we elected to breed Maggie young so she would potentially be so healthy that there would be no whelping problems.  What never entered my mind was that she was so healthy her puppies grew too big before they were born. First whelps for young females are usually on the smaller size, so even the number was high to begin with, as the average Labrador litter size is six.
But the real kicker with Maggie's litter was birth weight. These puppies were born 1-2 days early. Usually one would expect slightly lower birth weights with earliness. Average Labrador puppy weight is about 450 g. Maggie's smallest puppy was 410 g and the largest was 600 g with an average weight of 500 g.  Granted because these puppies were by c-section they did not have to spend energy being born, but still the litter was heavy. So despite all her pushing, Maggie could not get them out. 
And so the story of big and heavy continues. At one week a puppy is expect to roughly double in weight. The demands on Maggie to feed these puppies and double their weights was huge. She pretty much spent all her first week in the pen, feeding them.  Despite her best efforts, they did not double their weights. However they did gain about 50 g a day that is a healthy weight gain. And they have continued to gain from 50 to 100 g a day in the second week.  Because the feeding demands are so high, we have started to introduce the puppies to solid food. Well it is not solid right now, as we soak if for a few hours, mash it up and then add more water to make a gruel.  Some of our puppies have gotten right into this eating method.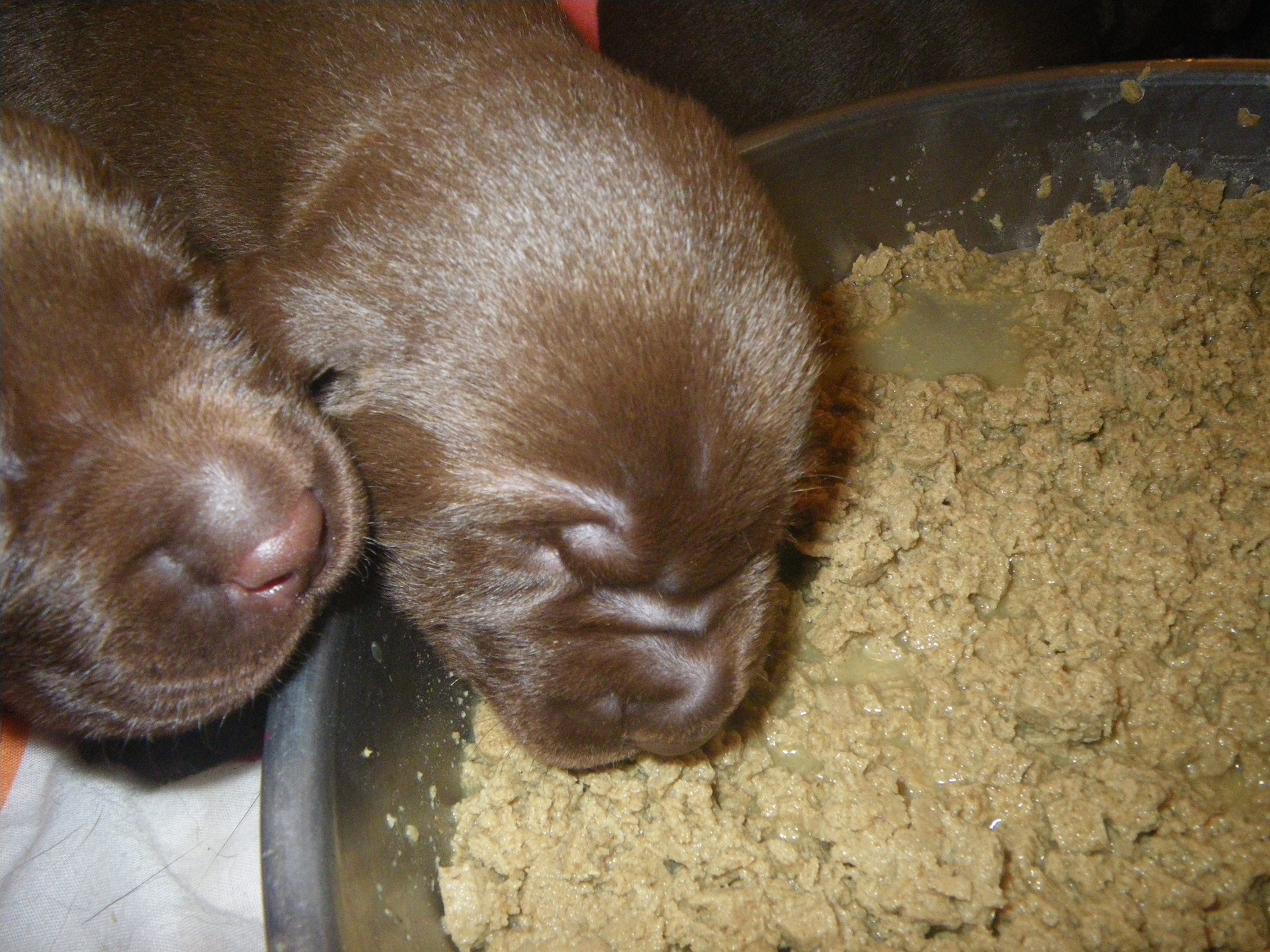 So they say every litter is different, and we can now attest that it is very true. After a natural mating, we were all prepared to settle down into a natural delivery. After all Maggie is young and in excellent health.
What we didn't count on was these puppies were huge!
Maggie pushed and pushed. She would rest for a while and then she would push and push again. While I am not an expert on this, even I could tell after a few hours that this was not going as we expected. Rather than risk Maggie's life and that of her puppies, we decided to take her in to the vet. After a couple of hours there with no better results, we elected to have the puppies by c-section.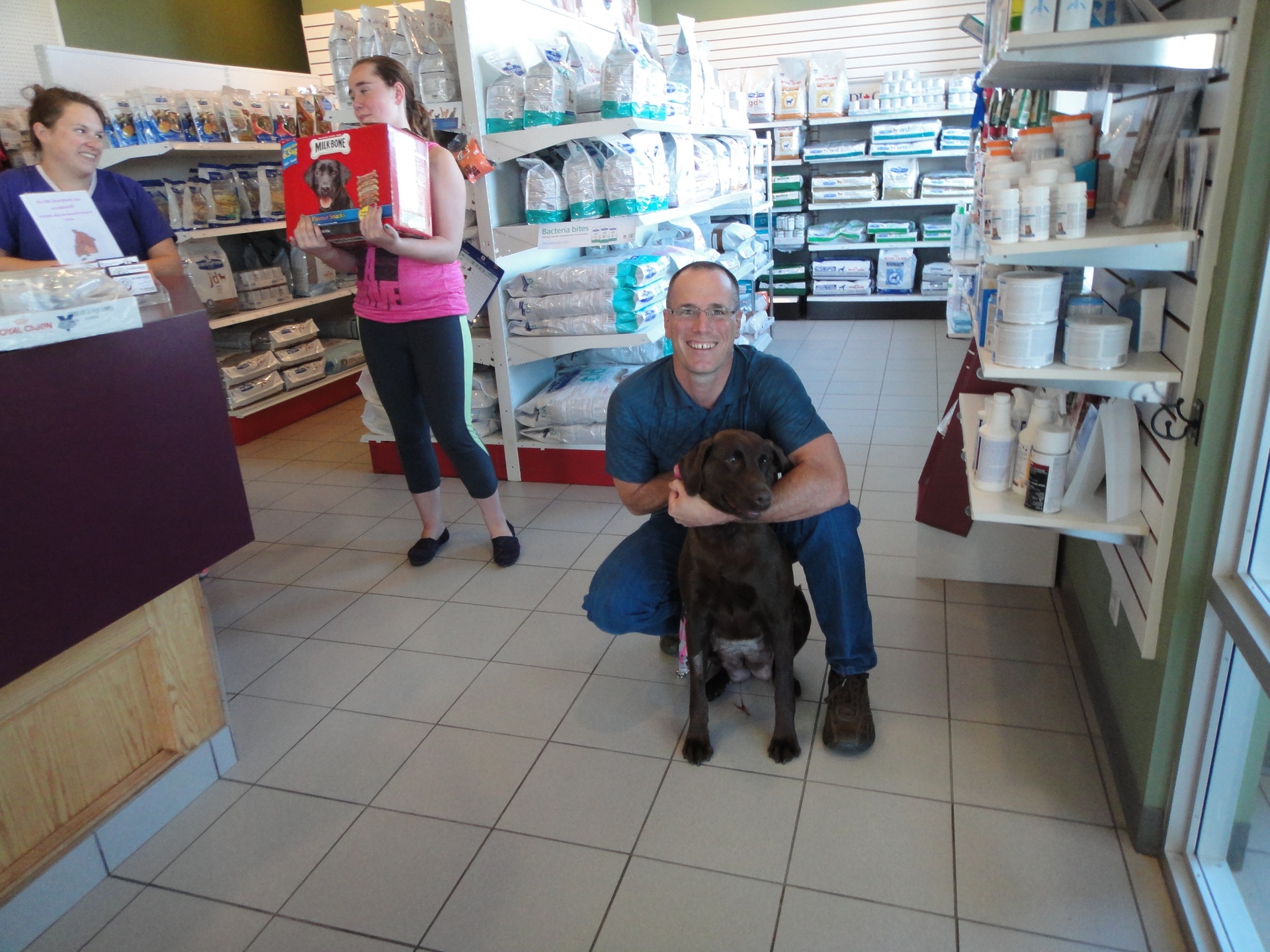 And so we have learned something else about deliveries. Despite all the best preparation, there can still be complications. Because this was Maggie's first litter and she was a bit dazed from surgery, she was not really happy for those first few hours at home with all those frantic puppies around her. So we stayed close beside her and kennelled her close beside the pen for the first 24 hrs. And then a slow, but amazing tranformation took place. Maggie began to clean her puppies, a bit roughly, just like she would have if they were just delivered. And then when she was away from them she would be allert to their little cries. And then she was a bit stressed if we handled her puppies. Motherhood had begun!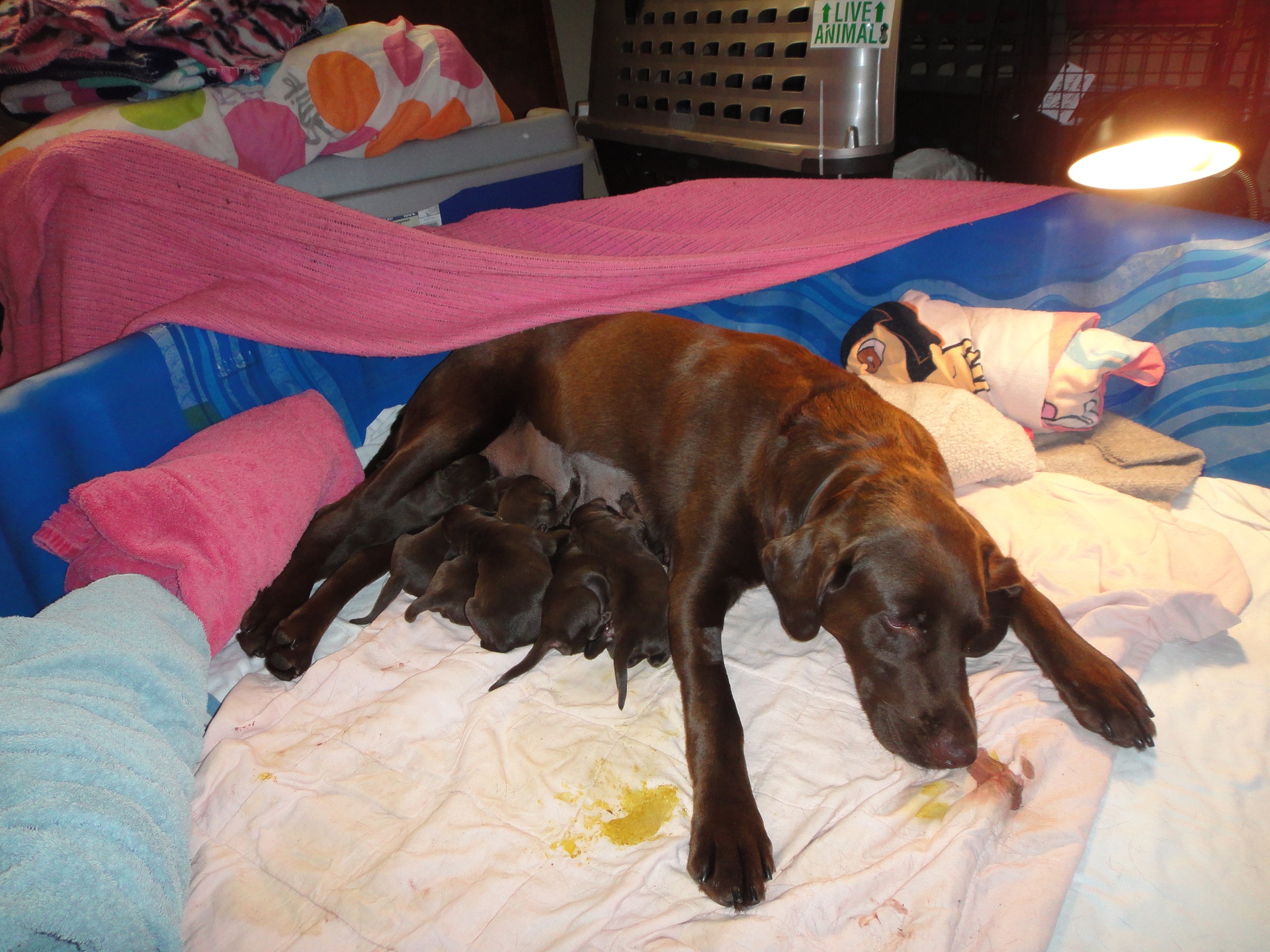 Now this is a big relief for us. Cleaning puppies is a big chore. You have to stimulate them to pee and poo.  The mom's licking does this naturally. And we don't have to worry about leaving Maggie alone with them. She is pretty protective right now. And the stress is now from us interferring too much. Give her food and water. Let her out every once in awhile (and even that she is reluctant to do). She has settled in to motherhood.
/