Shopping Cart
Your Cart is Empty
There was an error with PayPal
Click here to try again
Thank you for your business!
You should be receiving an order confirmation from Paypal shortly.
Exit Shopping Cart
After all the pups but Abby had been sent to their new homes, we took a week off to rest.  My full intention on returning home was to get the last of the puppy pictures posted, and give an update on registrations with the Canadian Kennel Club. But then the most horrific thing happened. Tucker was lost at 12 weeks old. Further investigation has led us to believe he was stolen. As sad as the latter is, at least it gives us hope that perhaps Tucker is living his puppy life somewhere out there with a new family. And maybe someday, for some odd reason, he will be scanned, and his new family will return him to his First Forever Family.
So this is not to be a rant against the thievery that is occurring in central Alberta. But this is to be a reminder to all my families of the importance of keeping your pup and dogs safe. And to have a plan if your pup and dogs are lost or stolen. Have the following:
Pictures of your dog: front, side, standing, sitting, and any distinguishing features.
Make posters: and put them everywhere; schools, shopping centres, neighbours. Plaster them where-ever you can. Someone saw something.
Post it on the internet: kijiji and facebook; sadly for the latter there are hundreds of groups
Keep checking: get your information to local shelters, and do a weekly check-back. Shelters run on volunteers, so the person who took your information may not be the person who recovers your dog.
If possible: use that tattoo series I suggested on your bill of sale and get your pup/dog tattooed. A tat is a visible sign that is unique to your dog because so many chocolate labradors look alike. And it only takes about a week with lots of treats to teach a dog a new name, so don't count on a thief not to rename your dog.
Keep handy the following: your bill of sale, vet bills, grooming bills, and your registration. If you have to involve the police or a rescue organization, you will have to be able to prove that this is your dog. Memorize your microchip number: but do not post it, as it gives theives and scammers power.
Let us know and we will try to help. 
Generally we don't post a week 9 blog, as all the pups but the one we have kept have gone to their forever homes. This time has been different as three of our pups have stuck around a bit longer as we arrange transportation to BC and Nfld. As well it was a slow selling litter, and we had our Golden Boy to find a home for, which we did. Yeah, all the pups but Green Girl will be going to forever homes. Teal, Harvey and Tucker left last Friday. Tikka left on Saturday morning, and in the afternoon we met two families, one in Castor to pick up Charlie, and one in Calgary to pick up Libby. We have been down to 4 pups this week and were all a bit sad, especially Maggie.
So the next step is to gt the litter registered and the pups registered. Due to a computer update with the Canadian Kennel Club, all registrations have been postponed until November 4. So as soon as the litter registration arrives I will be asking our Chocolate Clan Families for their preferred registered names.  There has been about a 30 character maximum to names so in the past we have just added the call name to the litter name, which in this case would be Maggie's Chocolate Clan. Since this is her third litter, there may be some duplicate names, and we may have to come up with something different.  In that case I suggest our kennel name Mekokama and then the call name. We have had some great suggestions come in and I look forward to learning them all.
The Vet
Yes, going to the vet was our big accomplishment in week 8.  Ten puppies into the car, and off to the vet.  Dr. Cindy Nowles did the examinations and vaccinations (See pictures below). Chelsey did the microchips. All the pups did amazing.  Hardly a peep out of them. And except for a few minor excitement pees on the towels,  they did really well of not making the place a mess. Blue also discovered treats.  Yes he almost didn't leave the table because they kept giving him treats:D. So the pups got their first vaccinations at almost 8 weeks (October 15) and they will need their next two sets of vaccinations at 12 and 16 weeks (3 and 4 months). For all our puppy families please check with your vets and get your pup booked in for these follow-up vaccinations.  If you miss the window, you will have to start over.
Going Home
And of course now that they are eight weeks old, vaccinated and microchipped, the pups have started going to their forever homes. Friday was a big day for us all as the first pups started their forever journeys. We wish their families all the best and of course the pups a lifetime of good health and great adventures.
And while some are leaving, we still have one little guy looking for his forever home (See top picture).  Some are waiting for travel arrangements. And we are planning of keeping one little girl for our own.
Three things I want to talk about as the pups are getting ready this week to go to their forever homes.
FOOD
We are feeding Purina ProPlan "Focus" Large Breed Puppy food. The pups have been doing really well since we switched them to it.  We have always had good results with growth on this food. But there are other quality foods that you can switch to, protein should be 22.5% or greater (this is a new recommendation from the AAFCO). Fat should be a minimum of 8.5% but not too high because you don't want your pup growing too fat....(Ha ha). Another important component is Calcium, too little and bones are not strong, too much  will also cause bone damage...so this is a very important component. Other good quality foods for a growing large breed puppy are: Wellness Complete Health Large Breed Puppy, Horizon Complete Large Breed Puppy, Blue Buffalo Wilderness Puppy Large Breed, Hill's Science Diet Large Breed Puppy, Holistic Select Large and Giant Breed Puppy, Instinct Raw Boost Large Breed Puppy, Eukanuba Puppy Large Breed, Merrick Grain-free Puppy, Purina Pro Plan Focus Large Breed Puppy, Royal Canin Puppy Large, Taste of the Wild High Prairie Puppy, Orijen Puppy Large, Whole Earth Farms Grain-Free Puppy, Diamond Naturals Large Breed Puppy.
So there is lots of choice.  We will provide a weeks worth of Purina so you can stay on it, or use it to change over to one of these other foods. New foods should be introduced gradually to reduce chances of diahrea and vomiting. We are feeding approximately 2 cups per pup a day. So you could substitute a quarter or half a cup for a couple of days and so on until you have changed over. We were feeding four times a day, but know that for most families this would not work, so we have cut down to three times a day (morning, noonish, and early evening). We have also changed from soaked kibble to dry. They still gobble it up but it does take a bit longer.
It is important to remember that although your puppy is growing fast, it will remain a puppy until it is up to 24 months old. So keeping your new family member on puppy food for 2 years is actually beneficial. It will reduce the chances of bone issues and hip disease. We have done our best to breed two good parents, but it is up to you to feed your pup properly to prevent hip dysplasia. Do not overfeed.  You will be able to monitor this more closely than we have, as we are still feeding pups together.
Spaying and Neutering
You are going to have full breeding rights to your pup. But that doesn't mean you have to breed your pup.  There are rules to breeding. Do not breed before your pup is two years old.  (See above about being a juvenile, and this is especially important for females.) Do genetic tests, for hips, elbows, eyes, D-locus (Dilute gene), CNM and EIC. While we declare these pups to be free from these diseases, you never know when a mutation could occur. Also we do eyes by examination so we know Maggie's and Hope's eyes are beautiful and free from phenotypic eye disorders. Hope does carry a gene for an eye disorder, and she should only be bred to a male who is homozygous for that gene.  We do not know if Maggie is a carrier. Also the D-locus is for the dilute gene (those grey coloured labs carry this locus and it is a demerit under the American Labrador Retriever Association). This consideration is new, and we have not tested Maggie, but Hope is not a carrier.
There is also a new recommendation (I thought it was from the Alberta Veterinarian Association but it may have been out of the States, I am still looking for it) that Golden Retrievers and Labrador Retrievers not be spayed or neutered before they are 12 months old.  It goes back to the maturity issue. Spaying or neutering too young reduces the hormones going to the growth plates, and they do not develop properly.  We have never had an issue with ACL tears, but know of two of our female pups who were spayed early (one at 6 months) that have had this issue. If you do not spay your female and are concerned about her heat cycles and what to do, please let's discuss this more.
Collars
We have the pups with just a mini or small collar. However, your pup is going to need a few bigger collars as he/she grows. We highly recommend Martindale collars.  They have a bit of chain in them.  So you make the cloth part of the collar as big as the pup's neck, and then the chain part is loose. However, if you grab the chain or have the leash on you can tighten the collar so it will not slip off. If the pups gets stuck on something the collar might come off, but you can keep it tight when you want control. 
Okay, where has the time flown. The pups are really growing, especially feet and noses (see Teal's nose below). They were starting to escape from the nursery with just the board up, so we expanded it to include the hallway.  It gives them some room to run as well. They have been going outside, and getting visitors. A friend even took a couple over to the extended care at the hospital, where they were a real hit.
One of our families continues to visit which is great as all our other families are at great distances. These pups are going from one side of Canada to the other. We have five famlies signed up for pups (plus us?!?), so just 2 boys and 2 girls need to find forever homes.
They are a lot of work now. I have been trying to get them use to different types of flooring, but they got to the carpet in the living room all on their own....well maybe big sister Hope knocking down the babygate had a small part to play in it. They love the bathrooms. We are keeping it at 21C in the house with a heat lamp in their room, but they are not having any problems going outside (so long as it is 10+C)....this morning at least 5 of them made it down the back steps all on their own. So many big adventures still in store for them.
Wow the time is flying with this litter.  It has been an exciting week. We started with some lovely weather so the pups got introduced to the great outdoors. They have been out three times so far. Yesterday it was 1C so was quite a shock for them, but they still enjoyed it. But the time outside was only 20 minutes before they were getting cold and it was time to bring them back inside (we were getting cold too).
Two important milestones this week. The pups began drinking water. So now we can decrease the amount in their food (gruel), and get them onto dry kibble. The second milestone was they began to play with one another. Well perhaps it could be called fighting, but really it is recognizing each other and interacting.
As Maggie cuts back on the times she is in the nursery, and feeding them, the pups are eating all the food we are putting out. We have decided to transition them onto Purina Pro-Plan Large Breed Puppy food. We have always had good success with it, and it should be easily available at all pet stores. We will keep Maggie and Hope on the Canadian Naturals Lamb and Rice, as Maggie has that food allergy to chicken (a very common allergy in older dogs due to the presence of chicken in most dog foods). Once she is no longer lactating (has the litter weaned), we will be able to change the diet to an adult large breed formula that does not contain chicken.
Love to see the puppies grow, but it seems so fast.  They were just beans two weeks ago, and now they walk, and talk, and do the two p's all on their own. Maggie is still nursing, but she doesn't spend much time in the nursery. The pups have teeth now!
So with all this growth, we had to move the pups out of the whelping pool and into our "temporary" nursery.  As we only have a litter every two or three years, we have not yet set up a full time nursery area.  But this is the third litter that has been born and housed in the upstairs master. We set up a paper area where we hope the pups will do their business, an open Nesting area where they can eat (Maggie can feed them), and then the kennels.  These pups have taken naturally to the kennels and we often find them hunkered down in one of them having a nap.  The kennels generally stay clean, but these guys love to pee on the Nesting area.  The paper is well used too, so they are getting it, just not consistently.
Friday was our second deworming day. So each pup got a dose of Strongid (a liquid). It is easy to administer. Worms are a chronic issue with pups, as they get them from their dam in the womb. So despite our monthly treatments of our girls, they still pick up worms from those delicious things they find to eat on our walks. As they grow, a monthly dewormer may be recommended by your vet. As well, at least on the Prairies, in the summer months a tick medication will probably be recommended.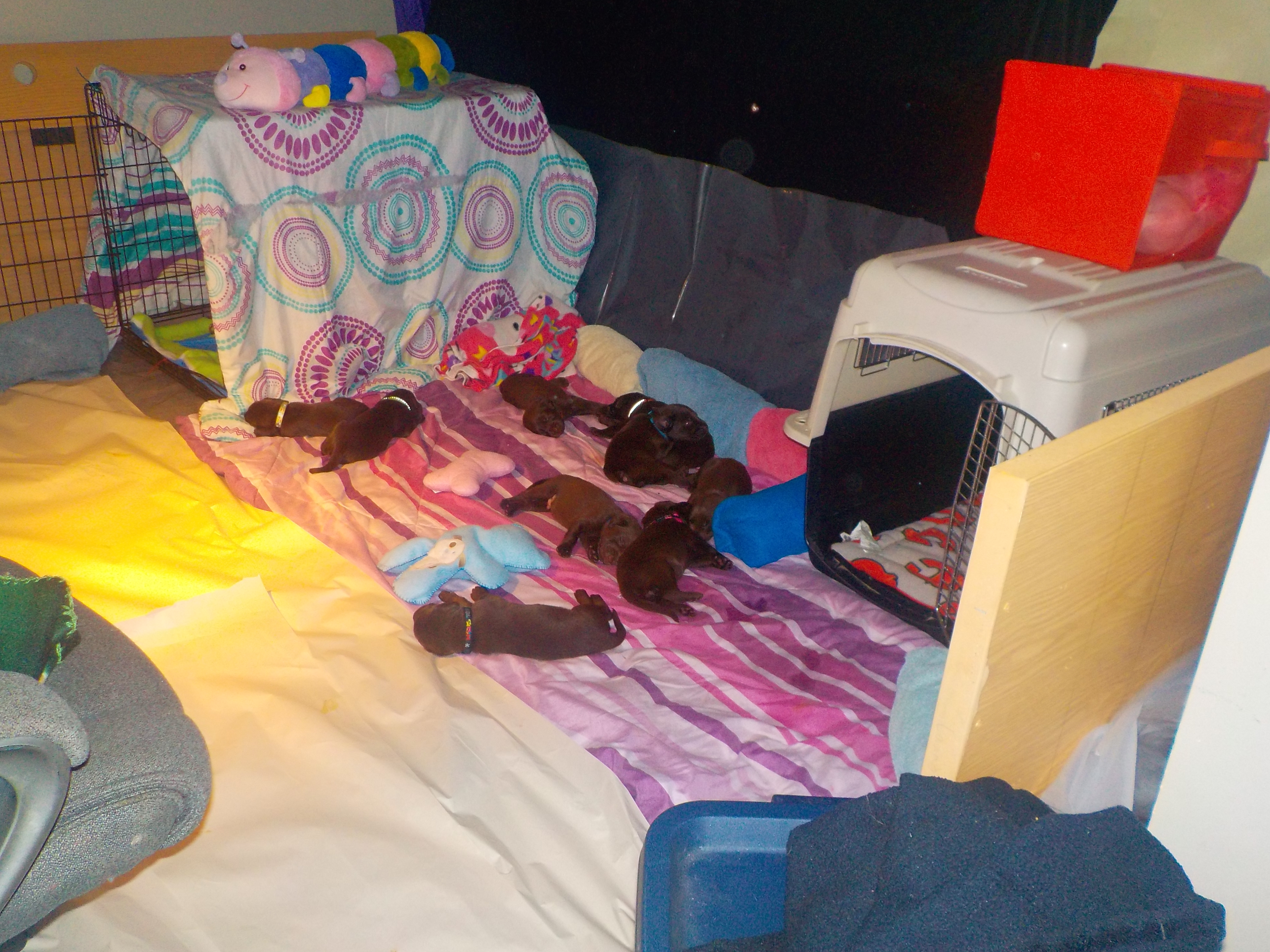 The pups are continuing on their rapid journey of growth. Eyes are all open. They are walking and sitting. And we have been able to introduce "solid" food. Well the food is actually mushed up puppy food with a lot of water and some puppy formula. They tend to walk in it, get it all over themselves, and sometimes actually eat some. But it is the time when the little ones that might not be able to compete on the teat can actually start to catch up to those big brothers and sisters. Because birth weight is a function of both potential adult weight and placement of the attachment point of the placenta in the uterus. Some really small pups at birth end up being as big as, or bigger than, some of the bigger pups at birth.  This is especially true for our girls. As well the pups are starting to climb, and get big, so we have had to take the hot bottles from inside the pool to the outside. Now that Maggie only goes in to feed them and clean up there is less risk that she might crush one.  She is a very careful Momma. The pups need to be a little warmer still, as they do not fully control their body temperature until 4 weeks.  So still lots to happen.
How the puppies have grown. They were little beans at the start of the week needing Momma for food, and to clean them to stimulate peeing and pooing.  It was an easy week for me in the cleaning department as Maggie did most of the work.
However, by the end of the week, as expected the pups started to walk and their eyes are now open. So walking means they have started peeing and pooing everywhere.  Maggie goes in and cleans as best she can, but with only her tongue, it leaves some stains behind.  As well the little guys don't mind peeing and pooing on each other.  Sometimes it just happens!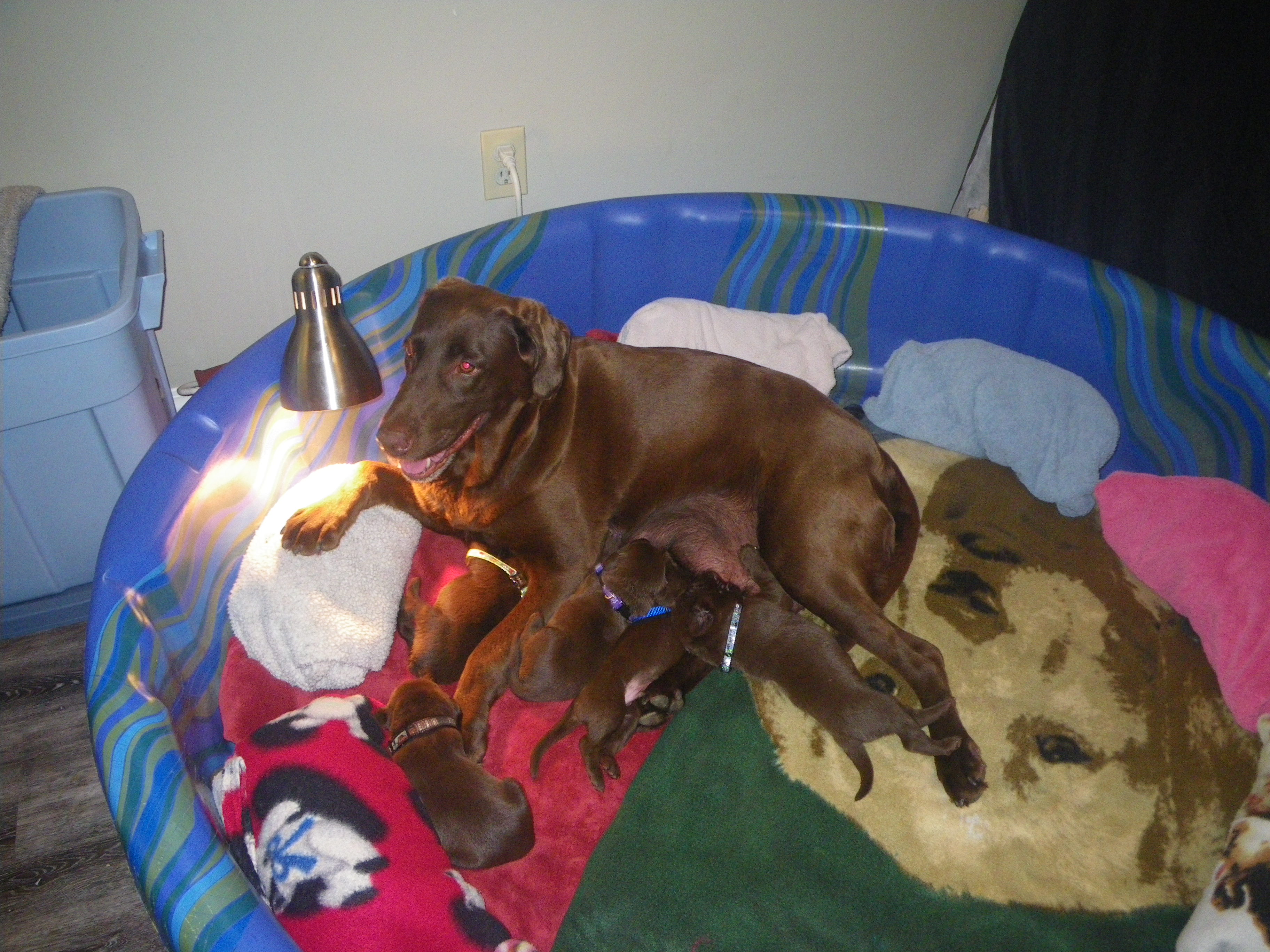 The pups got their first round of de-wormer.  It is a liquid formulation of Strongid. That has not helped the pooing situation.  However, we have lots of blankets and a washing machine so we are good for awhile. We did get them some collars, so hopefully that will make it easier to follow different pups, although with all the glow it may be hard to see the colors. They will only have them on under supervision as the pups are still a little small for them.
The next week is going to be exciting as we will start introducing puppy food (as a gruel mixed with formula). And depending on how fast they grow, perhaps some new expanded digs will happen too.
Wow, hard to believe this time last week we were in the midst of welcoming our litter into the world.  The week has whizzed by. Our number one concern for the past week is to ensure the health of our mother and litter. Maggie is once again proving to be a super mom.  We occassionally have to tell her it is okay to leave her pups to eat or go outside.  She is always ready to go for "walks" although tires easily and gets anxious quickly.
So I have been keeping track of each pup by painting a pup and weighing them daily. Then I have been putting the littlest ones on Maggie first for feeding, at least once a day. This is so by the time the litter is ready to go home, they are all about the same size.  However, I think that orange boy (Harley comes to mind) is going to be the big one no matter what we do. And it looks like Mauve girl might just stay little.  But with our girls it is hard to say as we usually have one or two bigger ones and one or two littler ones (when we have over one female pup). While the little ones eat, the other pups stay comfy and warm in the ready box (ready to go if we need to travel quickly).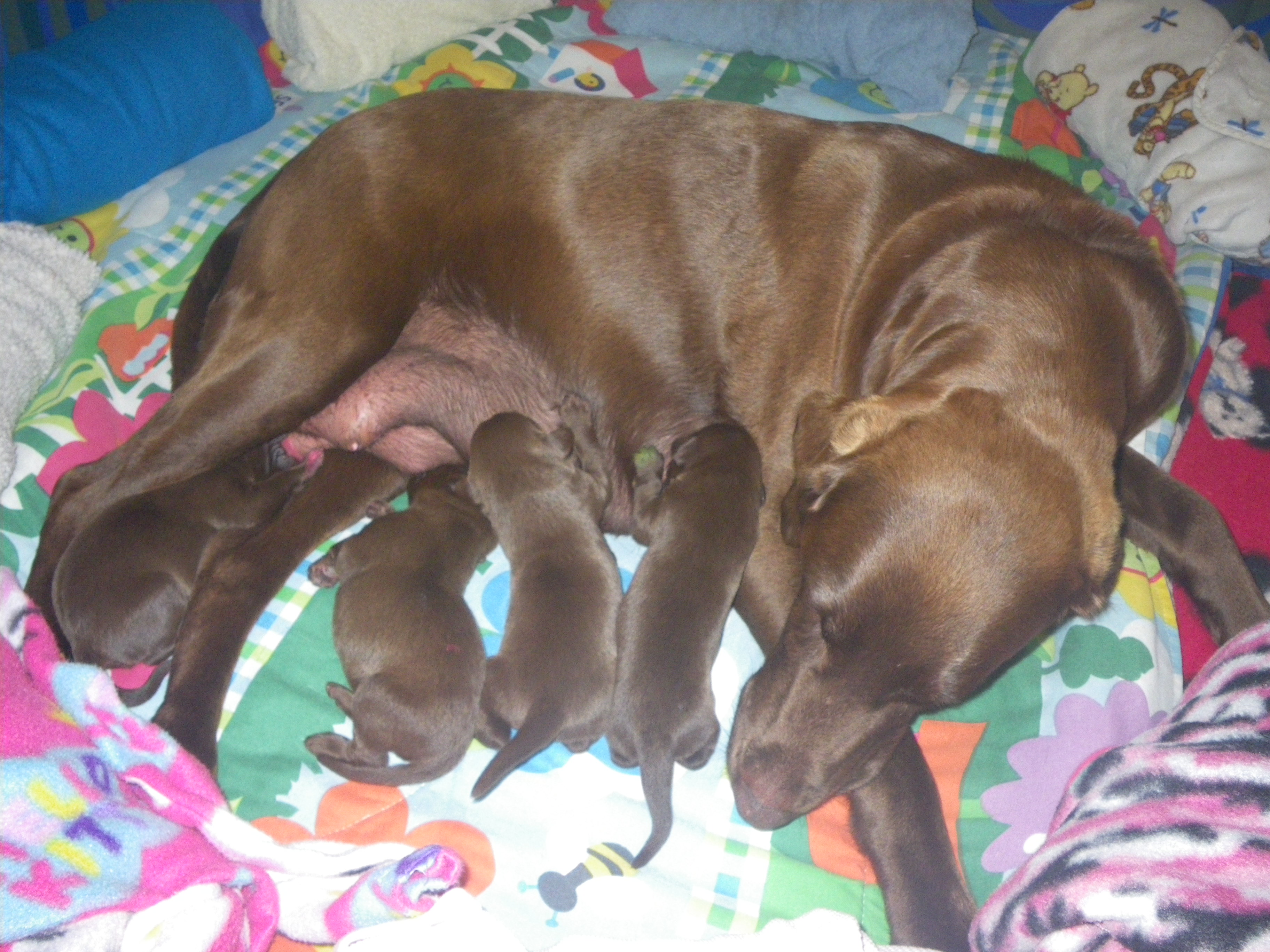 /